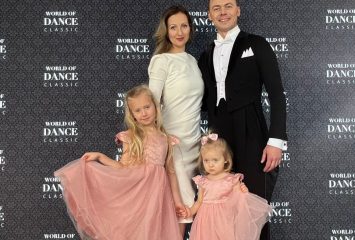 Young Ukrainian Couple Fleeing War Brings Dance…and Joy! to Mount Dennis
When Igor Borysov signed his last contract as a professional ballroom dancer on a cruise ship, leaving his wife and two young children behind in Ukraine, he had no idea that war would break out the following February.
Having been already uprooted once (from Donetsk) due to a Russian invasion, he and his wife Tatyana, sensed more than a military exercise was about to unfold in February of 2022. Carrying their sole possessions in just their backpacks, Tatyana escaped to Poland with their two children, Veronika and Violetta. In June of 2022, the family made a decision to start a new life in Canada with the help of the organization We Help Ukraine, first landing in Millbrook, Ontario.
In spite of all the odds, this courageous and resilient family is opening a ballroom dancing studio this coming Sunday, September 10th on the second floor of the old Shilla Restaurant at 1161 Weston Road (at Eglinton) in Mount Dennis with an Open House @12:30 pm. There will be free dance demonstrations on Sunday, Sept. 10 beginning at 12:30 pm.
The young couple is hoping that the communities of Mount Dennis, Weston and Etobicoke will embrace them by signing up for classes that include Salsa, Samba and even the Viennese Waltz.
In spite of the adversity and stress of having relatives still in Ukraine, they continue to believe that everything will work out for the best. They keep dancing because it allows them to cope with the stress of being separated from their homeland and family and want to generate joy for others through the art of dance.
The Mount Dennis BIA was established in 1974 and is one of 84 BIA's in the City of Toronto. Mount Dennis is undergoing tremendous change as it becomes the second largest transit hub in the City of Toronto once the Eglinton Crosstown LRT opens.
For more information, please contact Laura Alderson at [email protected].